Frequently Asked Questions:
What are your booth rates and options?
Standard Booths start at less than $249 (the price may vary slightly from show to show depending on our production costs). This includes approximately 65 square feet of space (roughly 8ft x 8ft, room for a banquet table, two chairs, and standing room). Space allocation may vary depending on the venue. We do try to allow extra space for caterers and photo booths.
At some venues, we may offer Premium Booths with approximately 120 square feet of space (roughly 8ft x 15ft). If available, this will be an upgrade option when you check out.
Depending on the venue, tables, chairs, and table linens may be at an additional cost. If so, these will be clearly identified as options when you check out.
How do I register?
Registration is 100% online, ( we use EventBrite for our St Pete Bridal Show registrations), and we accept all major credit cards. We prefer that you use a credit card for payment so your booth space is reserved immediately upon checkout. Please contact us if you need to make special arrangements for payment, such as a corporate check.
What is the cancellation policy?
Vendors who cancel with more than 30 days' notice are entitled to a full refund or rescheduling for a future show. All refunds are processed through EventBrite and may take 3-4 days to process.
Vendors who cancel with less than 30, but more that 10 days' notice may only have their registration transferred to a future show occurring within 6 months of the initial registration.
There are no refunds or rescheduling options with less than 10 days' notice. Vendors who cancel inside of 10 days forfeit 100% of their registration fee.
How many brides/guests attend your shows?
Typically around 400-600 total guests. About half are usually brides and grooms, and half are other guests (parents, bridal party, etc.).
Do you charge brides to attend the show?
No - we ask that they pre-register (so we have good contact info and other lead-related data), but the tickets are free for brides, grooms, and their guests.
How do you advertise the show?
We have developed a great "secret formula" using social media, email marketing, and local promoters to help us get the word out about our shows. Most of our brides are from Pinellas County and are planning a wedding in the next 3-12 months.
Do you limit the number of vendors at the show?
Yes - we are limited to a maximum total number of vendors (depending on the show venue, normally 30-50), and we also limit the number of vendors in each category (typically 3-5 vendors from each category - i.e. 5 photographers, 3 wedding planners, etc.). The registration page will show the number of booth registrations remaining for each category. As the show date gets closer, we do have some flexibility and will occassionally add an extra booth to a particular category, so check with us if your category is sold out and we may be able to accomodate you.
Note that some categories (such as Mary Kay, It Works, and 31 Gifts) are limited to one vendor per show. These booth spaces always sell out very early.
What other wedding vendors are attending?
If you scroll all the way down to the bottom of the registration page for each show, you will see a list of all vendors who have registered for that show so far. Please note that the list of registered vendors will change often, especially as the date of the show nears.
When do we set up for the show?
Doors typically open for vendors at 9:00am the morning of the show. It is imperative that you arrive early to set up. Booth locations are issued on a first come, first serve basis (so if you are the last vendor to arrive, you'll get the last available space...that no one else wanted!). Even if you only think it will take you a few minutes to setup, please keep in mind there will be 30 to 50 other vendors trying to park, unload, and setup at the same time as you, and setup must be complete 30 minutes before the show starts. We recommend you arrive early, setup, then relax and go grab some coffee or brunch and come back for the show ready to knock em dead!
Will we have pipe & drape surrounding our booth?
We keep our costs low by using as few rental items as possible, so in most cases your booth will either have the wall, or pipe and drape, behind it. There will not be pipe and drape between each booth. A typical floor plan is something like this: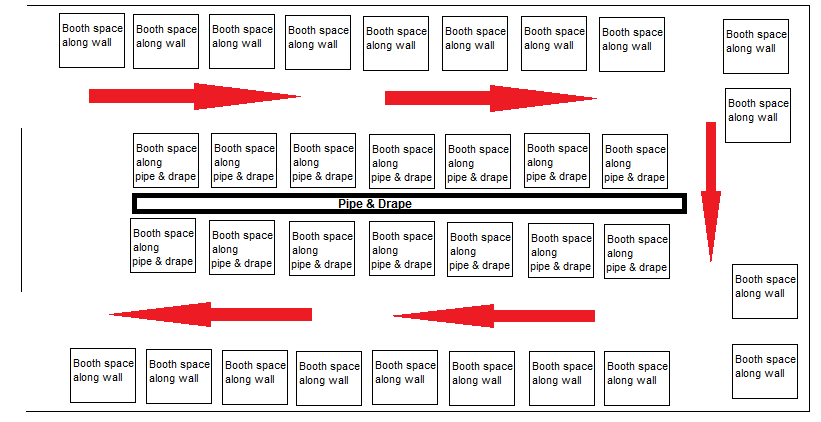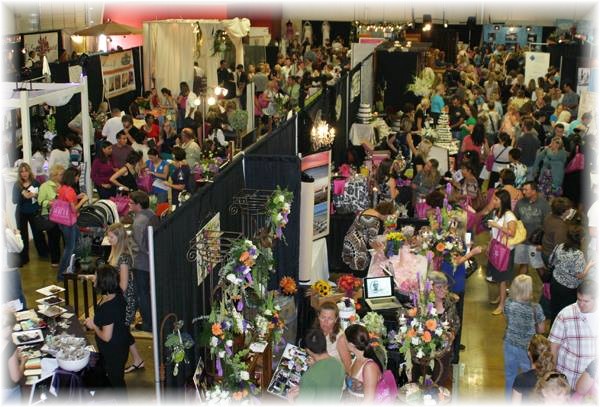 What happens during the show? Is there a set timeline or a fashion show?
There is no set timeline of events for the brides, and no fashion show or anything else to distract the brides from spending time with you. Brides, grooms, and guests will come and go as they please during show hours. Most only stay for an hour or two.
Can I bring extra people to help me work my booth?
Yes - in fact that's a great idea! Especially for the first couple of hours, the show can be very busy, so it's a good idea to have an extra person or two. Please keep it reasonable (2-3 people should be plenty) and be courteous of your neighbors and our space limitations. It's also a great idea to have someone help you setup and breakdown.
Can we provide food or product samples?
Yes - For example, most caterers provide food samples, a buffet, or food display at the show.
Can we do giveaways or special promotions at the show?
Though not required, you are free to offer prizes and discounts, and you can announce these via the show MC/DJ. We try not to get involved in the giveaways, but we encourage you to offer them if you like - they can be a great way to get brides to give you their contact info.
Can we sell products at the show?
We do not prohibit you from selling your product or service at the show. But keep in mind, most brides are not in "buying mode" at a bridal show - they are just looking for information. A bridal show is a noisy and hectic place to try and do business, and you might find a more effective approach is to collect contact information for follow up, and set an appointment to have the bride visit you for a consultation after the show, when you have each other's full attention.
Will electricty and wi-fi be available?
Yes - our venues typically provide electricity and wi-fi. Please bring your own extension cords and power strips.
Do you have any tips for setting up our booth, working the show, and following up afterwards?
We're glad you asked! We want the show to be successful for you, and there are several things you can do to dramatically improve your return on investment. Check out this outstanding one page guide called 6 Steps to Bridal Show Success, as well as this great video by our friends at Book More Brides:
Do vendors receive a lead list with brides' email addresses after the show?
Yes - We pre-register our brides (using EventBrite) and scan their tickets at the show so we know exactly who attended. Your registration includes the list of all brides* who attended the show, along with contact info and typical data such as wedding date, venue, etc. This will be available about a week after the show.
(*We generally do not collect contact info for guests other than the bride during registration. If your business markets to a demographic other than brides and grooms, you will need to collect information from these individuals at the show.)
We also offer a "Premium Lead List" option (it is an upgrade offered when you register) that includes the "no shows" - typically only about half of the brides who register show up on the day of the show, so we end up with a few hundred additional leads (who are still solid leads for local brides planning a wedding). For example, at one recent show, there were 250+ brides on the attendee lead list, and an additional 200+ on the no-show list. The premium lead list comes out within 24 hours after the show!
We also offer Facebook sponsorships and email blasts (also available as upgrades when you register), which is a great way to increase your exposure to the local wedding market.
Note that we encourage you to collect contact info at the show (especially for those "hot leads") so you can follow up as soon as possible after the show.
I can't make it this time, but I'd love to do the next show! How do I stay in the loop?
1. Check out our upcoming bridal shows in St Petersburg. We schedule our shows 6-9 months in advance and may already have the next one scheduled!
2. Follow us on Facebook for advance notice of future show dates.
3. Sign up for our email notifications.
Who can I call with more questions or concerns?
Contact Jeff at 727-235-7988 or jeff@smpl.events for other questions or more information!